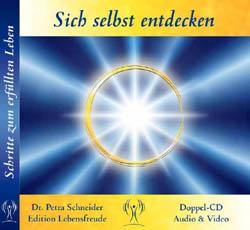 LichtWesen
Sich selbst entdecken (2 CDs)
Ready to ship, estimated delivery time: 1-3 workdays
Sich selbst entdecken (2 CDs)
For many years there has been an increasing need for relaxation and meditation in ever-widening circles of the population. At the same time, people want to understand themselves and their behaviors and free themselves from burdensome behavioral patterns and outdated habits.
People who are not used to being quiet often find it difficult to lie down or sit down for a classical meditation. For them, a bridge helps them to take steps to themselves while the mind is busy. This makes it easier for them to make contact with the inner world, to consciously recognize behaviors and to feel the inner silence. One such bridge is the CD "discovering yourself". In her knowledge of brain research and different meditation techniques were used.
CD 1:
The first CD (yellow print) contains short and effective stories of 3 to 5 minutes, which are symbolic, metaphors and music. The underlying music is similar to what is heard on the radio. This way, she can be heard during housework, free time, in the car or in the office and achieve her awareness-raising effect. Feedback shows that listeners feel lighter, livelier and happier after listening. A customer said "... my mouth goes up automatically"
CD 2: Audio and PC video
The second CD (blue print) contains calm, meditative lyrics and music that relaxes and calms down. Therefore, it should not be heard while working or driving.
Three of the four titles are equipped with a video that can be played on the PC. The CD can also be heard on any CD player, the videos are visible in the PC. The software required for this is on the CD and installs itself when first used. The screen and graphics card must support a resolution of 1024 * 768 pixels (XGA), which today is mostly standard. There are problems with some notebook PCs with slow CD drives and low graphics performance.
CD 2 is intended for the relaxation of eyes and mind, especially because of the graphics, even for the short break in the office. The time is minimal, because the works take only 3 to 6 minutes. So you can immerse yourself in inner worlds, without having to close your eyes. The PC videos make it possible to let go of the concentrated view and relax in the graphics "fall into it". The doors open for creativity and new strength. Our tests showed that people can relax with these videos very easily. The diversity offers an entry for everyone. The double CD "Discovering yourself steps to fulfilled life" is a new and effective concept for many people. Music, speech and PC video are a harmonious whole. The small and determinable amount of time corresponds to the needs of many people. CD 1 is suitable as background to normal activities. Through repetition, the buried behavior patterns receive multiple impulses and time for changes.
The music is aimed at a broad audience and was especially composed or edited for the lyrics. The musicians are professionally active in the field of film music and pop productions. Dr. Petra Schneider, author of the texts and spokeswoman, has many years of experience in meditation and awareness-raising techniques. She is the author of several CDs and books in Windpferd-Verlag and Edition Lebensfreude.
The result of the collaboration between Petra Schneider and Gerhard Pieroth with professional musicians, designers and computer specialists is this very special double CD in the Edition Lebensfreude.
Content CD1:
1 .: Discovering Yourself (03:06)
2nd: Every day is new (02:16)
3.: Decisions (04:17)
4 .: The story of the talents (04:12)
5th: Hidden Abilities (02:14)
6th: Medenga (02:50)
7th: departure (04:38)
8th: Slatko (02:25)
9 .: The Control Man (03:09)
10 .: Laughter is healthy (02:00)
11 .: Break on the way (04:57)
12 .: Dreams are signposts (03:13)
13th: Blue Cat (03:06)
Content CD2:
1 .: Everything is too much (00:18)
2.: Short break (04:58)
3rd: Familiar Unknown World (04:18)
4th: Into the sun (03:15)
5th: Changes (06:02)

Both CDs with a total of 18 titles can be played in any CD player, the PC video of the CD 2 is visible in the PC (from Windows 98, 166 MHz and XGA-capable graphics card) and is thus ideally suited for a short break at the desk , The software for the PC videos is included.
Sorry, this text has been automatically translated. We are working on replacing it with a thorough manual translation resp. the original text. For the time being, the automated translation will at least give you a basic understanding.
Legal note:
Vibratonal essences are considered food in the sense of Art. 2 of EU act no. 178/2002. They do not have a direct effect on body or psyche that can be proved with today's scientific methods. All statements made here refer to energetic aspects as such aura, meridians, chakras etc.
Note according to §32 VerpackG
All essence bottles are NON-RETURNABLE packaging. Please reuse them yourself or put them in the recycling bin.