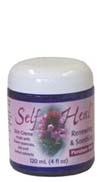 Flower Essences Society
Self-heal cream 120 ml (4 oz)
€31.90*
Content:
0.12 l
(€265.83* / 1 l)
Ready to ship, estimated delivery time: 4-7 workdays
Info: For external use only
Self-heal cream 120 ml (4 oz)
Self-Heal Creme™ is made with the flower essence and whole plant tincture of the remarkable Self-Heal herb, Prunella vulgaris, and is a paraben-free formula with organic and Biodynamic herbal ingredients. Contains organic ingredients certified to NSF/ANSI 305 standards by Oregon Tilth, Inc. USA.
Used as a moisturizer and soothing skin creme, or as a base for topical application of flower essences and essential oils, Self-Heal™ Creme has a loyal following around the world.
Ingredients
Biodynamic® and organic Self-Heal flower essence: The FES flower essence of Prunella ­vulgaris awakens the healing forces of the etheric body.
Biodynamic® and organic Self-Heal whole plant tincture prepared by FES: A well-known herbal remedy for topical and internal use, it is restorative and regenerative. Our Self-Heal plants are grown on our Biodynamic® and organic farm, certified by the Demeter Association.
Biodynamic® and Organic Chamomile and Calendula extracts in almond oil: Prepared from our own Terra Flora Biodynamic® harvest, these herbal extracts protect and rejuvenate the skin.
Organic aloe vera gel: Soothes, moisturizes, tones and protects the skin. It contains amino acids, minerals, vitamins, and enzymes.
Biodynamic® Aloe Vera flower essence: The FES flower essence of Aloe Vera is vital to creative forces to overcome "burn-out."
Olivem (cetearyl olivate & sorbitan olivate): A natural emulsifier derived from olive oil. It helps the skin retain moisture and gives a smooth, silky feeling to the creme.
Biodynamic® and Organic Almond oil: As an emollient and moisturizer, almond oil nourishes and softens the skin helping to keep it smooth to the touch.
Organic* Jojoba oil: A wax from a desert bush that protects the skin from drying. It soothes, moisturizes, softens, and is easily absorbed into the skin.
Organic Avocado oil: A nutritive vegetable oil that smoothes and softens the skin. It is easily and quickly absorbed into the skin, transporting other active ingredients.
Organic Shea butter: Extracted from the fruit of an African tree, it protects the skin, relieves dryness, and is easily absorbed into the skin.
Organic aromatherapy essential oils: Orange (made from the fruit of the orange, warm and uplifting); Lavender (relaxing and antiseptic); Ylang Ylang (a tonic and balancer); Geranium (anti-fungal, anti-bacterial and astringent cleansing properties), Jasmine (relaxing and calming).
Vegetable glycerin: A natural humectant derived from coconut or palm oil. It relieves skin dryness and aids spreadability.
Silica: A natural mineral, it contributes to the silky quality of the creme.
Cetyl alcohol: A waxy emollient and emulsifier derived from coconut oil, which is used to thicken and give body to a product.
Glyceryl stearate: An emollient and emulsifier derived from vegetable fatty acids which is used to thicken and give body to a product. It has humectant properties, and feels pleasant on the skin.
Xanthan gum: A natural, fermented carbohydrate used to thicken and stabilize skin care products.
Tocopherols: Mixed tocopherols (vitamin E) from natural, certified non-GMO sources; an antioxidant which protects and moisturizes the skin. It is known to neutralize free radicals.
Water: Deionized so that it becomes a standardized medium without the interference of high pH, bacteria, or minerals; water provides a vital moisture factor to skin care formulations.
Potassium sorbate: A preservative known for its effectiveness against yeasts, molds, and fungi. It is derived from sorbic acid, which is also a constituent of the rowan berry (Sorbus aucuparia).
Organic Totarol: An excellent all-natural anti-bacterial preservative extracted from recycled Podocarpus totara heartwood using a special extraction process.
This native tree of New Zealand is known to live up to 1000 years. After about 200 years of growth, it develops a strong anti-bacterial substance which acts as a defense mechanism to protect the tree. Developers have invented a process to capture these properties for use in cosmetics.
Totarol has no taste and very minimal aroma. The substance has been extensively tested at independent laboratories to demonstrate bioactivity, safety and product composition. In addition to Totarol's potent anti-bacterial activity, it also possesses anti-oxidant and therapeutic properties.
*Organic ingredients certified to NSF/ANSI 305 standards by Oregon Tilth, Inc. USA.
Legal note:
Vibratonal essences are considered food in the sense of Art. 2 of EU act no. 178/2002. They do not have a direct effect on body or psyche that can be proved with today's scientific methods. All statements made here refer to energetic aspects as such aura, meridians, chakras etc.
Note according to §32 VerpackG:
All essence bottles are NON-RETURNABLE packaging. Please reuse them yourself or put them in the recycling bin.